After many months of uncertainty, travel cancellations, event cancellations, and other obstacles presented to the global population, family vacations, and travel are slowly starting to resume. After so much time spent apart due to unwanted separation and unforeseen circumstances, families are ready to come together and take a trip. Travel agents predict that 2022 and 2023 will be marked by increased demand for multigenerational friendly vacations, offering things to do and enjoy for everyone, from small children to older grandparents. Now is the time to start planning if you want to take a multigenerational family trip this year - give yourself time to find the perfect destination, accommodation, and activities.
A vacation on a cruise ship is a common choice for families with members of many different ages. The cruising industry is expected to make recovery progress this year, but many people still feel hesitant to book a vacation on a cruise ship. Surveys show that private, exclusive experiences and excursions are still high in demand - so how about a private yacht or boat rental for hosting your family on vacation? A private boat rental or charter enables you to see the sights of wherever you're traveling to while relaxing with just your family, away from the crowds. A floating family reunion might be the highlight of your year!
Best Boats for Multigenerational Experiences
In addition to being affordable, pontoons are excellent for family gatherings due to a large amount of deck space they provide and the easy, flat surface for walking about. They are also very easy to board, making them a lot safer for older grandparents who might otherwise struggle to get on board a powerboat.
A pontoon with a swim ladder is fun for stopping in a calm area and letting kids jump out for a swim, and you'll have plenty of space to bring a picnic on board. Ask about renting a pontoon with a bimini top, so you can put it up to provide shade if it's a hot and sunny day. It's also good to look for a pontoon rental with a bathroom on board if you're going out for more than just a couple of hours.
If you're booking a boat day with grandparents and adolescent children or teenagers, a pontoon is great because you can enjoy water sports too, or bring inflatables or a floating carpet to unroll and let them relax.

Are you hosting a special family event? Do you want a more luxurious experience for your loved ones on the water? A yacht charter might be a perfect choice. Yachts are great for hosting events, and often not only will you have a captain to handle the navigation, but also a crew member or two to tend to your family's needs so you can enjoy your boat day. Want to stay onboard for multiple days of your family vacation? Book a large yacht with multiple bedrooms to give everyone a place to sleep onboard.
Yachts offer features that can make for a comfortable boating experience, including an interior cabin for shade or even a bedroom for an afternoon nap. There is almost always a bathroom on board, there are shaded areas for family members to take a break from the sun, and some yachts even have a full kitchen to prepare a meal or store food and drinks.
Another popular style of boat for multi-day experiences, a catamaran is a good choice for multigenerational boating experiences. Not only will you have plenty of storage space, you have both indoor and outdoor deck space, bathrooms, a kitchen, bedrooms, and a lot of more stable, flat surfaces for walking about.
If you're traveling to a city that is home to winding rivers and canal boats are a common sight - why not book a family canal boat trip for a part of your vacation? Canal boating holidays are common in England and in many European cities, but they've been rising in popularity on various rivers around the United States, including around the Erie Canal, on the Mississippi River, and on favorite boating lakes like Lake George in Upstate New York.
A canal boat (sometimes called a narrowboat) is perfect for navigating around the canals of a city, and you can sleep overnight in quaint quarters with your family members. This is great for smaller families who enjoy a relaxing vacation exploring the countryside.
Multigenerational Activities on Boating Experiences
One of the best scenarios to take a boat trip with both your children and grandparents (or great-grandparents!) is when you want to tour a new destination where many landmarks and highlights can be seen from the water. A boat tour eliminates the need for walking long distances, it provides an extra element of entertainment for small children who might otherwise get bored and can be a welcome relief to older family members who are not as mobile but still want to see the sights.
Some of the best cities for boat tours include Chicago, New York, San Francisco, Charleston, Boston, and Miami, just to name a few places. Many European cities are wonderful for tours by boat too.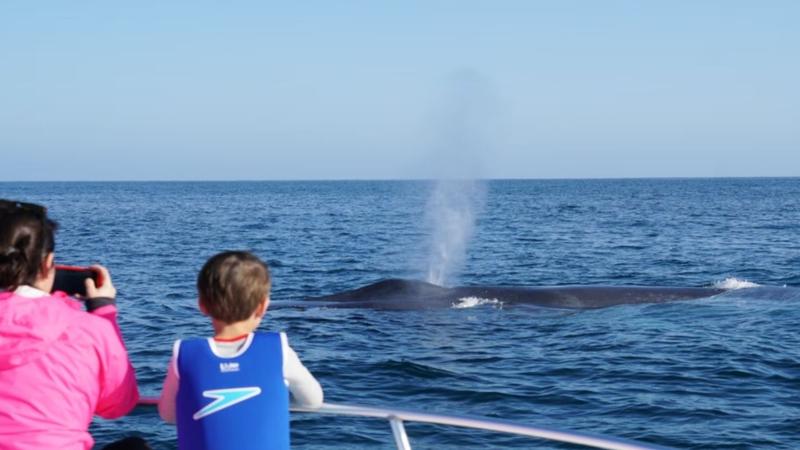 No matter how old or young anyone is, everyone loves seeing amazing marine animals in the wild. Nothing compares to the experience of seeing a pod of dolphins swim around your boat, jumping in the wake, or riding alongside the bow. Seeing a whale breach not far from your boat is an experience you'll never forget, and your whole family will relish sharing these memories.
Kids and adults alike will love a boating experience focused on seeing these amazing animals, it definitely beats a day at a crowded zoo.
If grandpa loves an annual fishing trip, and your young kids always ask about joining him, why not make it a whole-family adventure? Private fishing charters can be the perfect vacation activity for a full day of fun on the water. A fishing charter with a local captain and fishing guide to take you to the best places to make a catch is a fun way to spend time on the water. They come fully stocked with all the bait, tackle, and gear that you'll need, so no need to worry about packing fishing poles or other equipment.
If the whole family isn't as keen on fishing, ask the boat captain or owner if they can include the gear for fishing. This way, you can enjoy this activity with kids or grandparents who want to make a catch, without having the whole day revolve around fishing. Make sure you have the right license to fish and enjoy a day of cruising, sunbathing, and fishing on your boat day.
At GetMyBoat, there is no shortage of watersports. Plenty of the aquatic activities we offer are family-friendly, making it a great way to spend quality time on the water with your loved ones. Families can choose from kayaks, paddleboards, wakeboards, water skis, tubing, and more! Watersports are a great way to keep children entertained while allowing the adults to either participate or watch the fun from the sidelines.
Before booking, check with your boat captain to see if any watersport equipment is included with your boat rental.
Considerations for Boat Trips with Children & Grandparents
Before booking a boat day with your family, you want to consider some things so that you can have a safe and memorable day on the water.
First, safety is the number one priority, especially with younger kids. Make sure you confirm the number of guests with your boat captain and double-check that there are enough life jackets for the entire group.
Go over safety precautions with your children, and remind them there's no running while onboard the vessel. Check with the captain and make sure the boat is handicap accessible and see if the boat provides safe seating with a view. Next, find out if anyone in your group gets seasick. Plan ahead and pack some seasickness remedies. You'll also want to pack the essentials for a boat day, such as sunscreen, swimsuits, towels, sunglasses, hats, proper footwear, light jackets, and enough food and drinks for everyone to enjoy. Finally, you'll want to ensure enough entertainment options for your little ones. Some of the entertainment options at GetMyBoat include floating mats/lily pads, snorkel gear, tubes, paddleboards, fishing rods, and so much more. Ask your captain what's included in the rental before booking.
A boat trip is the perfect option if you're looking to social distance while on the water! You can spend quality time with your family while avoiding large crowds. You may want to consider booking a captained charter for your family outing. With a boat charter, a certified captain is in charge of operating the boat and can manage all of your guests/ family onboard. A captain can also act as a local guide, showing you the best spots on the water and helping arrange some family-friendly activities.
Summer vacation, Spring Break, or a family holiday at any time during the year can be a great reason to rent a boat. Whether you're heading to the coast, a river, or a lake, boating with your whole family is a great way to bond and make special memories. Reconnecting after so much time spent apart during the pandemic with multiple generations of your family could be the highlight of your year.
Time is precious. Spend it with the people you love on the water.