One word: luxury. For Aries, a megayacht with top-of-the-line amenities should fit the bill just fine. It can't be just anywhere, though, since an Aries needs to stand out as the best of the best — we'd suggest Miami, Cannes, or Monaco as your yacht charter destination. Sound good? Find your luxury superyacht charter with a full captain and crew to make your Aries dreams come true. Or, for those of us who aren't in the 1%, you can find plenty of stylish-yet-affordable options on GetMyBoat for the same kind of luxury feeling.
Taurus is all about relaxation without skipping the perks and decadence of a luxury experience. They aren't one to party on a crowded catamaran but would prefer a more laid-back, serene experience onboard a classy motor yacht. A Taurus is most at home cruising a beautiful coastal riviera, sipping champagne on a private yacht with their favorite people.
Choosing a boat for a Gemini isn't an easy task. They're spontaneous, playful, and even erratic, making it impossible to pin down the perfect water experience. They don't want to choose between a sailboat or a powerboat, a relaxing cruise, or a day full of active adventure. So the best boat rental option for a Gemini is one where they do not need to choose between activities: which is why we'd suggest a yacht equipped with jet skis, paddleboards, and all the equipment for other water sports. Play to the Gemini's indecisive nature and pick the boat that is ready at a moment's notice to fulfill their desires for whichever activity they choose.
A true water sign, the Cancer is a sensitive, security-seeking person who is most at home with small groups of equally compassionate people. They prefer to surround themselves in a calm environment with other people they can trust and enjoy spending time with. The ideal boat for a Cancer looking to get on the water is a small cruising boat for just them and their partner. A calm sunset cruise that provides a loving, secure atmosphere is ideal.
Leo season is in the summer, and the perfect boat to match Leo's over-the-top, dramatic energy is a custom wakeboard boat with all the equipment you need for fun. Find your passion for water sports and showcase your amazing skills on a stunning powerboat made for making the biggest waves. You don't have to choose between luxury and fun when you're a Leo.
Virgo's are logical and practical, and what's better than a pontoon to meet those criteria? A pontoon is a budget-friendly way to have fun with your favorite people on the water without worrying about the flashy features or complicated details. Take your desires for systematic, organized fun with your family and friends on a pontoon before summer is over.
A true Libra needs to find peace, and there's no better way to do that than letting the wind take you on a calming adventure. Find your equilibrium on a sailing yacht and soak in the sunshine and balance you need as a Libra. The wind in your sails will fuel the harmony between you and your boating companions.
Scorpios have a passionate and curious nature that will lead them to great adventures on the open water. Activities like scuba diving, snorkeling, or whale watching that allow them to explore what lies beneath the waves will set the Scorpio's soul on fire. They are courageous — no need to convince them to dive right in. A Scorpio is most at home on a boat embarking on a wild quest, and a boat trip full of adventure fits the bill perfectly.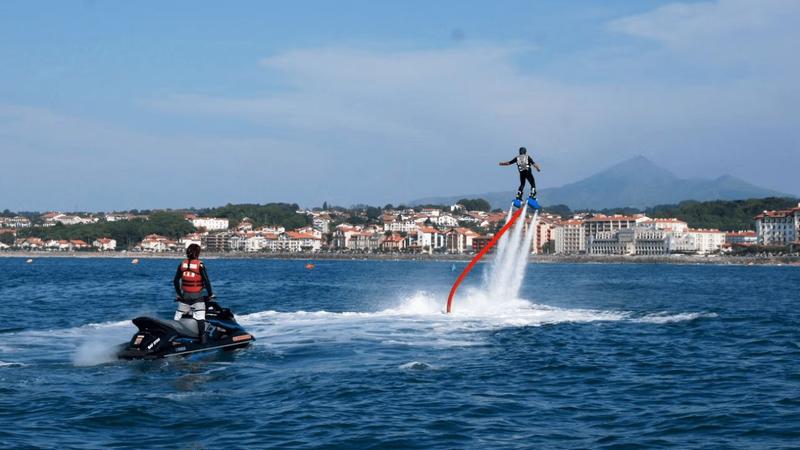 No adventure or risk is too big for a Sagitarrius, and to match their wild energy, an equally-exciting watersport it must be. Whether flying through the waves on a top-of-the-line jet ski rental or experiencing shooting out of the water on a flyboarding excursion, there are so many fun water adventures available on GetMyBoat to fuel a Sagittarius's energetic spirit.
For a hard-working, ambitious Capricorn, spending frivolously on all the bells and whistles just doesn't make sense. A practical Capricorn will want to relax and see the sights from their own boat, a modest powerboat to take them where they need to go and provide a pleasant experience. Their ambitions make it hard to relax, but even a Capricorn can enjoy a moment of serenity on the water.
Innovative, progressive, and revolutionary, Aquarius is represented by the water bearer, the mystical healer who bestows water, or life, upon the land. Accordingly, Aquarius is the most humanitarian astrological sign. An Aquarius is best suited to an eco-friendly boating experience, where they can sustainably connect with nature. An electric boat rental, a kayaking tour, or any other adventure that helps them see the beauty of our waterways is the best boating experience for an Aquarius.
Often considered the most romantic sign, it's no secret that the ideal boating experience for a Pisces will include their partner. They are gracious, emotionally aware, and passionate, perfect for a sunset sailing cruise that will provide the ultimate scene for special moments with their loved ones.