Do you dream about getting on the water every weekend during the summer months? Looking for a new way to bring your family together while enjoying the outdoors? Have you always wanted to own a pontoon to be able to provide a fun space on the water for your favorite people?
If the answer is yes, and buying a pontoon is on your radar for the coming boating season, we've got all your questions and concerns covered in this guide.


Why Buy a Pontoon Boat?

Pontoons are one of the most popular choices of pleasure craft, thanks to their comfort and versatility. You can enjoy almost any activity on a pontoon — sunbathing, fishing, and water sports like tubing, and there's plenty of space onboard for all passengers to be comfortable. They are also great for exploring, since you can easily beach a pontoon on a sandbar or remote beach for a camping trip.
Need to stop for a swim? A pontoon's swim ladder will be easy to climb back on the boat, and many pontoons have ample storage space for putting your floating mats and inflatables once you're back to cruising.


Our Favorite Destinations to Explore by Pontoon Boat

Most pontoons manufacturers have their headquarters in the Midwest of the United States, which makes sense due to the high demand for pontoons on lakes across the country. Some of the most popular lakes for cruising by pontoon include Lake of the Ozarks, Lake Tahoe, Lake Minnetonka, Lake Norman, and Lake Travis.
Cruising on these lakes with a pontoon, you can explore waterfront restaurants, enjoy water sports, stop at various public beaches, or go fishing. Drop the anchor in the middle of the lake or in a quiet cove for a swim during the summer months — you're guaranteed to have a great time!
Not only are pontoons extremely popular for cruising lakes, but they're also a great choice for calm coastal areas, too. The ability to beach a pontoon on a sandbar or secluded beach area makes them ideal for cruising around Miami, Destin, San Diego, the Florida Keys, and the San Juan Islands off the coast of Seattle. You can discover new places and easily access remote land areas, which is great for exploring beyond the beaten path.


The Pros and Cons of Buying a Pontoon Boat
Purchasing a boat is a huge decision, and there are plenty of considerations to take before you hand over the money. Of course, you've got to take your own personal circumstances, budget, logistics, and more into consideration, and we can't make a firm recommendation one way or another — but if you're weighing your options, here are some of the reasons on either side that we've found to be true.

The Pros

Smooth Cruising
Often considered the SUV of the water, a pontoon offers a stable and smooth ride. That's because the boat's weight distribution across the toons provides extra stability when cruising on rough water, and as a result, pontoons rarely capsize. Their wide turn radius, while an objective limitation, actually results in a smoother overall ride when you're not trying to turn on a time, which is perfect for cruising with small children or elderly folks. They also often have features like nosecones and wave tamers that act like shock absorbers, so you won't feel the impact as you cruise over small waves and chop.


Family Friendly
A pontoon for families of any size will provide the best atmosphere for most everyone. Pontoons have high railings to keep small children contained, plenty of space for teenagers to bring their friends on board, and the ability to tow kids for fun water sports. It's a great multi-generational boat, too, because it's very easy to board for older family members, and grandma and grandpa will appreciate the smooth ride.


Versatility
While pontoons don't necessary excel at any one specific type of water, the benefit is that it's a great all-around pick for just about anything you'd want to do out on a casual boat day: water sports, fishing, lounging, picnics, or exploring remote areas. Because of their open design and spacious seating, they're also great for hosting an event on the water and getting together with your favorite people.


Easy To Maintain
Because pontoons are powered by outboard engines, they are easier to service and require much less maintenance than inboard motors and other styles of boats. As long as you properly winterize your pontoon, you shouldn't need to do too much maintenance or upkeep to have it running smoothly. It's very easy to clean - you can hose off most surfaces and easily wipe away any mess that is made while having fun on the water.


The Cons
Water Sport Limitations
While you can have some fun on tubes or water skis with a pontoon, you can't do everything as well as a standard power boat, due both to a combination of speed limitations and the type of engine. The max speed on pontoons is typically around 40 mph, with most boats operating between 28–35 mph. The wake is also wider, which is less ideal for wakeboarding. But most importantly, wake surfing should never be done behind a pontoon — since they have outboard engines, riders would need to be unsafely close to the motor to wake surf.


Bad Weather Limitations
Storms with high winds and large waves are dangerous for any boat, but especially a pontoon. Without a V-shaped hull, they can't cut through high waves effectively, so in a bad storm, pontoons are easily swamped in these conditions. Don't go out on your pontoon if there is a storm risk, and of course, always be vigilant about changing weather patterns when out on the water.


Wide Turn Radius
Due to their wide turning radius, pontoons might be tricky to handle for new boaters, so it's a good idea to practice in safe conditions and always be very cautious when docking or navigating in a tight space.


Depreciation
If you plan to own a boat for only a few years and then resell it, a pontoon might not be the best choice for you. While a boat loses its value after the initial purchase, regardless of style, pontoons lose their value faster than a lot of other types of boats: about 25% of the resale value after just a couple of years of ownership.
This depreciation is because there is less demand for older pontoon models in the used boat market, and because pontoons are often used more frequently than other types, it's assumed there is more wear-and-tear on them than other styles. This isn't a problem if you plan on having a pontoon boat for life, but it is something to consider if you're not sure how long owning a boat will be a part of your lifestyle.


Pontoon Manufacturers to Check Out
Bennington
Bennington is one of the largest manufacturers of pontoons, which translates to a huge selection of styles and options for buyers. Their exclusive THRU-BOLT technology secures the tubes to the deck, providing the smooth ride that Bennington is known for. The company offers luxurious, high-performing pontoons at reasonable prices, with models starting at $21,000 and ranging up to over $200,000. They also have a lifetime deck warranty and bow-to-stern warranty options.


Sylvan
Sylvan has been manufacturing boats for over 70 years, and they are known for their high-quality designs and luxurious offerings. Their unique pontoon design offers better weight distribution and stability than other models. They are known for their smooth drive - Sylvan Pontoons have c-star hydraulic steering, so you won't feel a pitch-and-roll when you turn these boats.


Avalon
All Avalon pontoons are well-priced vessels produced in the United States. They offer Lifetime Structural Warranty protection when the buyer buys a comprehensive 5-year warranty, which provides peace of mind to any first-time pontoon buyer. They are also extremely customizable - with offerings of waterslides, grills, lounge areas, and other features that you can choose from.


SunTracker
SunTracker pontoons are known for being a more affordable option, which is ideal for first-time pontoon buyers. They also focus more on providing a space for fun - rather than luxurious detailing. SunTrackers are ideal party boats for large groups - the deck space makes it easy to spread out and dance to your favorite music on the water. They are also beloved among anglers and are known for being great fishing pontoons.


Manitou
Manitou pontoons are budget-friendly vessels noted for their high-performance design and special floorplans for fishing. They also have sport-handling V-Toon® technology that enables them to turn with the agility of a wake boat, so your water sports riders will have a great time being towed.


How Much Does the Average Pontoon Boat Cost?

Pontoons can range dramatically from simple, budget-friendly models to luxurious vessels with state-of-the-art features and high-performance engines, so of course, there's a huge range in prices. Though on average, a mid-market pontoon will generally cost somewhere between $18,000 and $60,000.
If you want to spend as little as possible, you can often find used options from a boat dealer for as little as $15,000. However, with cheaper and older models, it's a good idea to have a professional boat mechanic inspect it before you commit to buying.
On the more expensive side, luxury pontoons from a top manufacturer will cost well over $100,000, some even closer to $200,000, when they're customized with special amenities like waterslides, grills, and luxurious features.
If you plan on owning your pontoon boat for a long time, buying a new one might be a better decision since you can enjoy the manufacturer's warranty and be assured that you do the proper upkeep and maintenance. With a used boat, you run the risk of issues caused by the previous owner that could be costly down the road.


Other Expenses with Owning a Pontoon Boat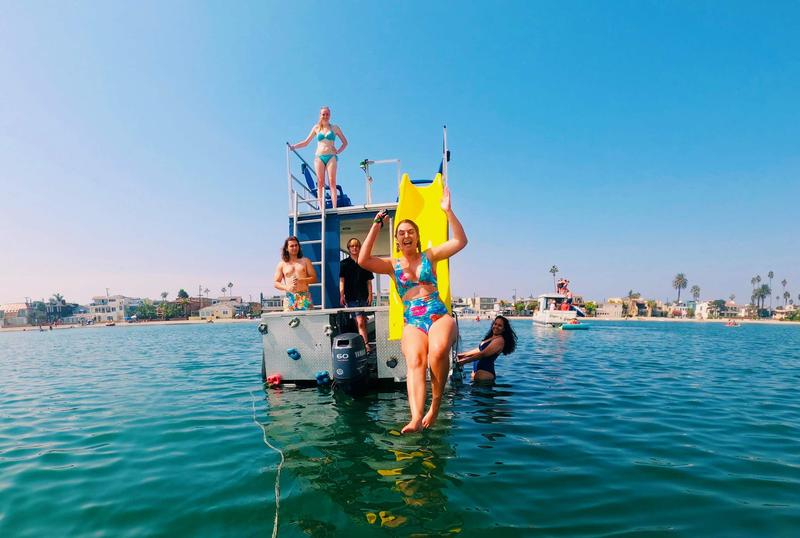 In addition to the purchase price of a pontoon, plan on spending between $2,000-$5,000 extra annually for repairs, storage, and other expenses, like:


Insurance
While boat insurance is not always a mandated requirement or a state law, insuring your boat is highly, highly recommended to cover yourself in case of damages to your boat or injuries to others when out on the water.
The annual cost for boat insurance ranges between $150-$400 annually, but this can be higher depending on the level of coverage and the condition and year of your pontoon. Check out our partner at Boat Charter Insurance for their great rates and offerings for insurance.


Taxes, Title, and Registration Fees
These expenses will vary from state to state and country to country. You'll want to see what you'll need by visiting your state's DNR website and seeing the fees for your pontoon registration.


Marina & Docking Fees
If you don't own waterfront property with a dock where you plan to store your boat and don't want to deal with the hassle of trailering your boat every time you use it, you'll need to explore options for docking at a marina. Marinas can cost anywhere from $2,000 to over $15,000 annually for a docking slip, depending on the local area's demand and exclusivity.


Maintenance
Despite the efforts of even the most cautious boat owners who take great care of their vessels, pontoons that are frequently used, hauled around, and enjoyed will experience wear and tear. Annual maintenance costs for a pontoon owner will vary depending on many factors, but you should expect to spend a minimum of $1,000 annually on basic maintenance.


Fuel
The frequency with that you use your pontoon will determine your fuel costs, but overall the cost to fill up a pontoon with gas ranges between $150-300 depending on the size of the pontoon's tank. This cost can fluctuate since local fuel dock prices can change without warning, so it's best to set aside some extra cash in your pontoon fuel account.


Pontoon Accessories
Other costs that you'll need to expect when you first buy a pontoon are the essential accessories like a trailer and safety gear for onboard like a first aid kit, lifejackets, other floatation devices, an anchor, ropes and lines, and a boat cooler for keeping your drinks and food cold when out on the water. While these are all much smaller expenses than the cost of the boat, they do add up to a significant price when you're first starting out.



Pontoon Boat Maintenance Tips
Now that you've got your beautiful pontoon, you've got to take proper care of the thing. Routine maintenance and upkeep will help prevent mechanical issues and ensure you get as much quality time on the water with your pontoon during every boating season.


Routine pontoon maintenance checklist:
Always cover your pontoon when it's not in use. Whether that involves a shaded dock slip or pulling a fitted cover over the boat, keeping your pontoon's interior covered when it is docked is crucial to prevent fading of the interior cushions. You'll also want to keep rain and bugs out, so a fitted cover is ideal, even if your dock slip is covered.
Winterize your pontoon properly and, ideally, store it indoors. Climate-controlled storage will help preserve your pontoon and prevent damage caused by freezing and expanding liquids.
If you're boating in salt water, be sure to flush the engine after every time you're on the water. Prevent corrosion and salt build-up by periodically cleaning the bottom of your pontoon.
Regularly check for any leaks or dents in your boat. Finding a leak early can help prevent costly damage. Thankfully, pontoons are less susceptible to damage on the hull due to their ability to cruise in shallow waters, but you can still end up bumping into obstacles in the water, which would be cause for concern.
For information on the maintenance of your boat, check out our guides on how to fix a drowned outboard engine, how to avoid stainless steel corrosion, and guide to care for boat surfaces.


Test Drive Different Pontoons with GetMyBoat
Is buying a pontoon worth it? It depend on the individual user, obviously, but doing your research, calculating all the expenses, and comparing them to your budget is essential. And we think the best way to research pontoons is to experience them firsthand — by renting them out and testing different makes and models. Just like test driving a car, you'll want to test drive a boat before you buy it, and it's even better when you can make a whole boat day out of your test drive!
On GetMyBoat, you can find incredible deals on pontoon rentals that you can drive yourself to get the full feel and experience. From Bennington Q-Series to Avalon Waketoons to double-decker "SunDeck" models from Godfrey, there are many options to choose from. The perfect pontoon for you will depend on the type of boating experience you desire.
Rent a pontoon today and start exploring your options before you buy!