Cape Coral and Fort Myers are two of the most popular boating destinations in southwest Florida, and for a good reason. From miles of waterways and white sandy beaches to pristine waterfront properties and calm blue water, boating is the best way to explore these beautiful Gulf Coast towns. Enjoy fiery sunsets from your charter, embark on a fishing excursion in search of a trophy catch, or cruise to a sandbar for a day of fun in the sun.
Here are our top boat rentals and captains in Cape Coral & Fort Myers - check out their offerings to book for your next trip!
Captain Randy Busch in Cape Coral
Are you looking for an incredible captained boat charter in the Cape Coral area? Look no further than Captain Randy!
Rent his 30ft Scarab Center Console for up to 6 guests on board and enjoy first-class service and a wonderful boat day in Cape Coral. Prices start at $95-$125 per hour. He is a professional captain who will provide your group with an unforgettable experience on the water in Cape Coral.
Bring food and drinks (including alcohol). There is a bathroom on the boat and a spacious deck, bow, and cabin to lounge -- you will be very comfortable sunbathing here. Don't forget to bring music - connect your Spotify "boat day playlist" to the boat's Bluetooth Speakers.
Captain Randy's boat charters cost from $95-$125 per hour plus gas for up to 6 passengers. Every cruise is privately chartered and customized to your interests.
Some sample itineraries that you could enjoy with Captain Randy include:
Fort Myers Beach Tour - take a cruise around Sanibel Island
Anchor n' Chill Cruise. It's time to party! You'll make your way to any of the local islands to stop and enjoy a boat party and swimming.
Sunset Cruises. Captain Randy will find the perfect spot to sit and relax to the amazing sunsets. You will drift in the open gulf as we watch the sunset into the Gulf of Mexico. As you make your way back towards the city, you'll see the stunning post-sunset coloring of the skyline.
If you're looking to have an unforgettable experience, look no further. This is the perfect outing for birthday celebrations, visitors from out of town, family outings, corporate events, and romantic date nights. Your time on the boat will be one you'll never forget. Let's go!
Renter Review from Captain Randy's Charters:
"Randy and his boat are perfect for exploring the waters off southwest Florida. We had him take us around Sanibel/Captiva/North Captiva. He was flexible, gracious, and safe for our group of seven (four adults, three teens). Would highly recommend him and would definitely use him again the next time we're in the area." - Chris, November 2021
Captain Fred in Fort Myers, Sanibel, Captiva Islands, Cabbage Key, Boca Grande!
Looking for an affordable boat rental option without compromising style or fun? Check out Captain Fred's powerboat rental with prices starting as low as $75/hour that can accommodate up to 6 guests! Captain Fred will help you customize the perfect itinerary for a memorable day on the water.
Water activities in SW Florida that you can enjoy with Captain Fred include:
Recreational Fishing
Visiting Sandbars
Relaxing at Private Islands
Sunset Cruises
Dolphin Tours
Waterfront Dining
Captain Fred's love for the water started with his career in the Navy and has progressed to him being a licensed captain in southwest Florida for over 20 years. He is very familiar with the local area and waterways, so he can show you all of the hidden gem locations around the Gulf Coast. His boat is equipped with a premium Bluetooth audio system, a freshwater shower, a large built-in cooler, two large beach umbrellas, beach chairs, floaties, a frisbee, and a football. For a fun added bonus, you and your friends can make frozen drinks like margaritas or rumrunner with the blender found in the cabin!
What are you waiting for? Click here to start building your perfect boat day with Captain Fred!
Renter Review from Captain Fred's Charters:
"Where is the 10 stars option for every category? Because that and more is what Fred and Kyle deserve. I have so many good things to say about Fred and his boat that I don't even know where to start. Fred and Kyle are great, genuine, honest people, great human beings. We felt completely comfortable as if we were family. We felt absolutely safe due to Fred's supreme knowledge of his boat, its navigation systems and the area. The boat is absolutely sturdy, my brother gets motion sickness easily and the boat is so solid that we felt like gliding more than boating, with all the amenities we needed for our comfort and at an unbeatable price. We had an outstanding time enjoying all the gems in the Fort Myers area. Can't wait for my next trip with Fred and Kyle. Absolutely recommended. Maximum gratitude for you guys!"
Erica's Bareboat Boat Rental in Cape Coral and Fort Myers
Looking for the freedom to navigate the open waters yourself? GetMyBoat owner Erica has you covered! Enjoy cruising in Cape Coral or Fort Myers on a spacious 24ft bowrider that comfortably fits up to 10 guests. This boat is available to rent for 3-days, 5-days, or weekly.
Erica's Bareboat Rental Rates:
- 3 days: $1,000
- 5 days: $1,500
- Weekly: $2,000
Whether you're looking for a relaxing week of cruising around the Gulf Coast or craving an adventurous week full of thrilling watersports, this boat is sure to meet all of your needs. Food and drinks are welcomed on board and can be enjoyed while you're anchored at the beach! Erica will bring the boat to the ramp and walk you through a safety brief of the gear and operations, so you are prepared to be your own captain.
Please refer to our Boating Laws and Regulations by States Guide to see how you can obtain your Florida Boating Safety Education Identification Card. Have additional questions? Click here to message Erica through the GetMyBoat platform.
Sailing with Christos
Are you looking for luxury in Cape Coral or Fort Myers? Christos and his team will sort you out with a great sailing or luxury yacht experience. This sailboat can accommodate 6 guests and has everything you need for a fun-filled day on the water with family and friends. Cruise by the wind as you enjoy the beautiful Gulf views.
Christos and his crew can take you to private islands and sandbars like Gasparilla Island, Boca Grande Sandbar, or Caya Costa. If you get too hot, you can escape to the air-conditioned cabin to cool off.
George's Pontoon Boat Rental in Cape Coral & Surrounding Areas
If you're visiting Cape Coral with a large group and need a big boat, George has you covered. Rent this spacious pontoon that can fit up to 12 guests from GetMyBoat Super Owner George. This vessel is available for rent to individuals with a Florida Boating Safety Education Identification Card. For more information on how to obtain a Florida boating license, click here.
With prices starting as low as $279/day, you can enjoy the beautiful waters surrounding Cape Coral without breaking the bank.
This party barge pontoon boat comes fully equipped with a Garmin GPS with updated charts, Fish Finder, and safety and regulatory equipment ( life vests, flares, horns, fire extinguishers, first aid kits, etc. Rent this pontoon and sightsee from the water, stop at a sandbar, visit a private island, go swimming, and so much more! Bring your favorite food and drinks and enjoy a picnic out on the water with incredible views, especially during golden hour.
Renter Review from George's Pontoon Boat:
"We had the best experience on our vacation while in SW Florida. George and Martin delivered an amazing pontoon boat to our hotel, and we were able to hop in each morning and explore the beautiful waters of Fort Myers. Amazing people and such a better price than anywhere else we looked. We will be working with them on our return trip for sure!"
Kurt's Jet Ski Rental
Enjoy the freedom to ride at high speeds wherever the waves take you in southwest Florida with Kurt's jet ski rentals. Fly through the water and admire the coastal views while stopping at sandbars and private islands along the way. Kurt has multiple wave runners available daily.
Kurt's Jet Ski Rental Rates:
2 hours: $200
4 hours: $280
8 hours $425
You can request another time frame when submitting your booking inquiry to get custom pricing. Not only are these rentals affordable, but the jet skis come with a full tank of gas, and pick up from a public boat ramp is included in the price.
Renter Review from Kurt's Jet Ski Rental:
"My wife and I had a great experience with Kurt. The jet ski was a newer model and performed perfectly. We took it from Lovers Key up to Sanibel on the gulf side. Great trip! Kurt was very communicative and was waiting for us at the boat ramp both at the start and end of our rental. Great all-around service!"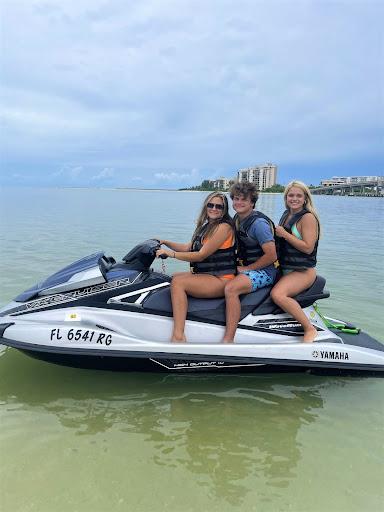 ---
Ready to rent a boat in Cape Coral or Fort Myers? We're here to help you find the perfect option.