The best sights of San Diego are seen from the water. The USS Midway, Mission Beach, La Jolla, the San Diego skyline, and the iconic sea lions and dolphins are just the beginning of sights you can see from a boat rental or charter in San Diego. Choose from yacht rentals with a captain to bring you to the best spots around the harbor, a dinner cruise to catch a glimpse of the San Diego sunset while you dine on delicious food, or rent a boat for a full day of cruising around, swimming, and sightseeing on the water.
Here are our top San Diego Harbor Cruises and boat owners who offer them on GetMyBoat!
Exclusive San Diego Boat Excursions with Captain Landon
No trip to San Diego is complete without a harbor cruise, and Captain Landon is here to provide the ultimate experience. He is US Coast Guard certified and has been boating in Southern California his entire life. Bring your favorite food and drinks, turn up the music, and enjoy this stunning coastal city from the water. Your trusted captain is a GetMyBoat Super Owner and a California native, so not only will he provide exceptional customer service, but he can also bring you to the best hideaways and coves.
Don't miss out on the ultimate San Diego experience with Captain Landon! Choose from a two-hour cruising experience, or rent a boat for an entire day for up to 6 of your favorite people with Landon in San Diego.
Tiki Pontoon Boat with a Water Slide - Book with Captain Max!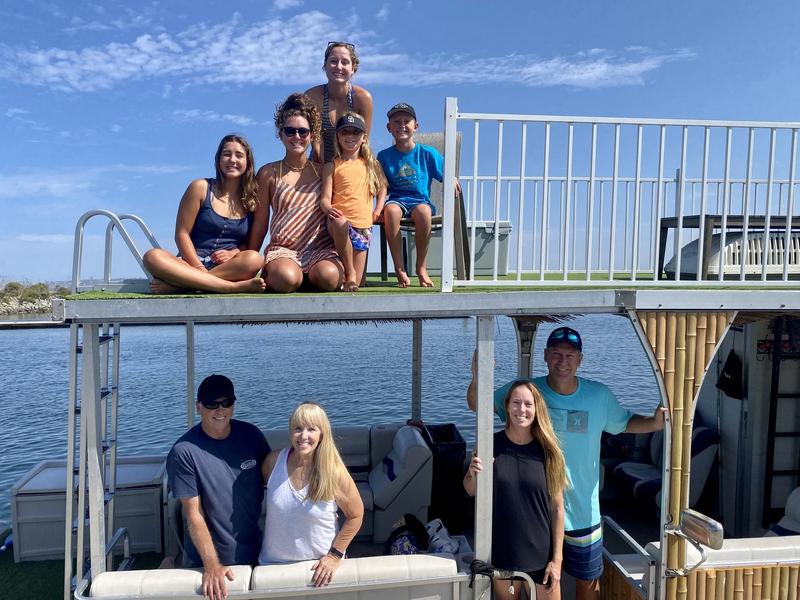 Enjoy sunny San Diego aboard a double-decker tiki pontoon boat with Captain Max! This boat has everything you need for a fun-filled day on the water - a waterslide, lily pad, a grill, lounge seating, and so much more! You can choose a 4-hour or 8-hour trip depending on your preference. The pontoon can accommodate up to 12 guests and is perfect for spending quality time with friends and family.
"Jake and Taylor are AMAZING! Everything was so well organized, and communication was on point. Jake gave the perfect tour of the bay for our friends who had never been to San Diego before. Thank you again for the perfect day out on the water! "
Waterslide into Mission Bay on a Double-Decker Pontoon with Justin
Make a splash off the waterslide on this fun and affordable pontoon, available to rent with Captain Justin in San Diego. Justin is a Coast Guard Certified captain who has years of experience providing his guests with an unforgettable, fun, and safe time on the water. His boat rentals include water toys, a lily pad and stand-up paddleboard, Bluetooth speaker connections, an iced cooler, and plenty of seating for your party onboard.
"We had a great time on the boat for my birthday! The paddleboard and lily pad were a great addition and it was easy to play our own music and BYOB/food. There was definitely enough space for the 12 of us. I would recommend!" - Kate, October 2021
Pontoon Party Cruise on Mission Bay or Downtown SD with Paul
Planning a joint bachelor-bachelorette party and want to get on the water? Perhaps you're celebrating a milestone birthday or just have a lot of friends who want to get together. Whatever the occasion, Paul's Party Boat for up to 17 passengers will be the perfect venue for your party. Enjoy seeing Sea Lions, fireworks in the evening, an iced cooler for snacks and drinks, Bluetooth speakers to connect for your party playlist, and the option of a sun deck and shade covers too. Best of all, Paul offers some of the most affordable pricing in San Diego, so your boat party doesn't have to break the bank. He also has a pontoon for 12 passengers and a speedboat for up to 9 passengers too.
"Paul is very professional, communicative and will make sure your experience is the best. The view was incredible around SD Bay, we saw the Sealions up close swimming and relaxing. We were provided with a cooler and Bluetooth speaker. I trully recommend Paul for your Pontoon boat rental. Thank you Paul for the Best day!" - Viridiana, Sept 2021.
Cruise in Style on a Private Yacht Around San Diego Bay with Kenne
This gorgeous yacht can fit up to 6 passengers and includes two paddleboards and a giant inflatable for a fun float on the waters of San Diego, and you can stop to anchor in Coronado's Glorietta Bay, Coronado Cays Cove, or in Point Loma in La Playa. Bring your drinks and enjoy the complimentary ice chest included in the charter. Captain Kenne is a highly experienced boat captain with USCG 100 Ton Master certification. He is a retired Naval Special Warfare SWCC and will provide your group with an incredible yachting experience in San Diego.
"Captain Kenne was great - we had the best time! He was a great tour guide, was very accommodating and allowed us the flexibility to add more time while we were on the water. Everyone had a wonderful time and we'd definitely recommend booking with him!" - Jennifer, August 2021
Sail Through San Diego Bay with Captain Jim
Cruise by wind through the San Diego Bay and admire picturesque views of the skyline, the USS Midway, Coronado Bridge, Point Loma, Cabrillo National Monument, and the coastline. Every charter includes a USCG licensed captain, knowledgeable crew, and soft drinks, and light snacks. This sailboat is perfect for birthday celebrations, family gatherings, corporate events, bachelor/ bachelorette parties, and more. Whether you're looking for adventure or relaxation, Jim and his team are here to help you plan an unforgettable day on the water!
Luxury Yacht in Mission Bay with Jennifer
Book an amazing water adventure in Mission Bay onboard this Sea Ray motor yacht with Captain Jennifer. There is a swim platform and ladder, a lily pad float included in the rental and it's the ultimate boat for a birthday party or another group gathering if you want a luxury yacht experience while exploring San Diego.
"Jennifer was amazing, very easy to book and answered all my questions. Our captain was extremely friendly and made our experience that much better. Would book again!" - Irene, July 2021
Party Cruises & Boat Tours in San Diego with Karina
Have a big group looking for the ultimate cruising experience in San Diego? Captain Karina and her team will help you sort out the perfect boat day for whatever occasion you are celebrating. This 50' dive boat accommodates up to 24 people with a bathroom, a hot-water outdoor shower, a bar, and a BBQ and food preparation equipment. Partying, snorkeling, kayaking, paddleboarding, diving, dancing, and BBQing are some of the activities you and your group can do on this boat!
Karina and her boat crew can take you not only around the San Diego Harbor but also to the Coronado Islands in Mexico, to La Jolla (snap a photo of the sea lions!) or enjoy a sunset and fireworks cruise in the summer to see the fireworks of SeaWorld without having to go to the theme park.
Enjoy a Sailing Charter in San Diego w/ Captain Don
Prefer to explore San Diego by wind power instead of a motor? A sailing charter with Captain Don on his 42-foot Catalina cruising monohull is what you need! Book a sailing tour for two hours or head out for an entire day, Captain Don is a USCG Master and a former US Navy instructor and can teach you some sailing skills or handle all the navigation while you kick back and relax on deck.
Choose between a morning sail or an afternoon whale-watching cruise. Depending on the season, whales and dolphins that are frequently observed here include Gray Whales, Humpback Whales, Blue Whales, Pacific White-Sided Dolphins, Risso's Dolphins, Northern Right Whale Dolphins, Common Dolphins, Killer Whales, and Dall's Porpoise.
Chaparral Yacht Charter with Tee in San Diego
This gorgeous 28ft Chaparral motor yacht is ideal for a cruise around the harbor in San Diego, accommodating up to 14 people on board. Take your group and tie up with other boats in Glorietta Bay or Kellogg Beach. Captain Tee and his team know how to show guests a great time on their yachts in San Diego.
"Great experience on San Diego Bay! Beautiful, well-maintained boat. Andrew was prompt at launch and return time and provided a thorough briefing on the boat and its amenities. This boat has a day head, which was especially great for the ladies! We would definitely rent from Tee again!" - David, Sept 2021.
To search for more boat rentals and water experiences in San Diego head to our website or download the GetmyBoat app.