No matter the time of year, Puerto Rico offers a tropical escape and all the charm of the Caribbean Islands while offering all the comforts of mainland USA. With gorgeous beaches, unique experiences like bioluminescent bays to explore by kayak, historical buildings, and tons of amazing bars and restaurants, Puerto Rico should be at the top of your list for a winter escape vacation.
Here are some of our best captains in Puerto Rico:
Leonel's Luxury Yacht Charters from Fajardo
Looking for a full day of luxury cruising around Puerto Rico? Look no further than Captain Leonel's Yacht Charters. He's passionate about sharing his love of the ocean and is a USCG Licensed Master Captain with over 22 years of experience. He is also a Super Owner on GetMyBoat, completing over 150 5-star boat trips.
Book a yacht charter and prepare to immerse yourself in clear warm Caribbean waters. The charters come with a captain and crew to pamper you and your guests. Stop at a cay or island for a swim and snorkel, or eat lunch with a tropical view of one of the many picturesque bays of Puerto Rico. Book a 4-hour or 6-hour adventure for up to 10 guests. You can also coordinate a trip to Culebra or Vieques with Captain Leonel; just let him know if that's your desired itinerary when you submit an inquiry! His yacht is a 45′ vessel with three bedrooms, two bathrooms, two dining areas, a family room, a full kitchen, and a spacious deck area.
Review of an experience with Captain Leonel:
"10/10 would recommend picking this charter. He was so professional, friendly, respectful and FUN! My friends and I all had the best day. The boat was BEAUTIFUL! The island he took us to was amazing - clear waters, fish and beautiful views. Sound system was great, snacks on board were great. Amazing experience!!!" - Lyndsey, Sept 2021
Captain Gabriel's Luxury Yacht Charters in Cabo Rojo
Captain Gabriel is a newer owner on the GetMyBoat platform, but his excellent performance has earned him the title of Best of GetMyBoat 2021 winner!
He has a variety of different boats and yachts to book on GetMyBoat, from a luxurious 52' yacht that can accommodate up to 10 guests, or a snorkeling tour on a center console. The captain and crew are included in all boat charters, as well as appetizers and refreshments.
"JUST AMAZING!!! This trip was the highlight of my time in Puerto Rico. We were a group of 10 celebrating my birthday. The service provided by Gabriel and his team are truly 5 stars. Communication and pick up at the marina was perfect and on time. The even provided plenty of appetizers for my group and did a drone photo shoot for us. Do no hesitate to book with Gabriel and his team!!!!" - Jose, August 2021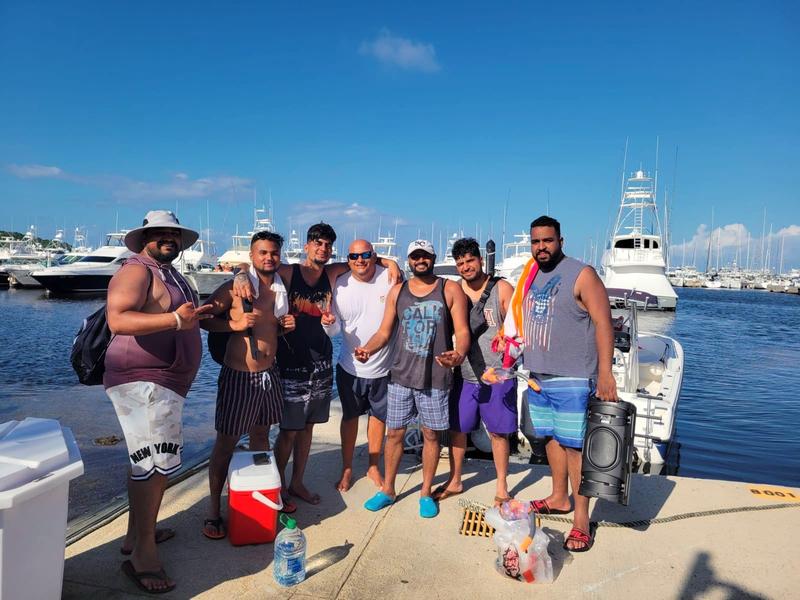 Angel's Private Yachting Experience from Fajardo
Visiting Puerto Rico with a small group and want to make the most of your vacation? Spend a day on a motor yacht with Captain Angel. His Cabo 35' yacht offers you a unique experience to escape with friends and family. Starting at $1300 for the whole day, embark on an incredible cruise in Fajardo visiting Icacos or Palomino Island.
The boat's spacious layout provides ample room to move about, lounge, or entertain. Enjoy a day cruising on the turquoise clear waters of Puerto Rico and experience the beautiful tropical weather. Message Captain Angel for a price quote, all charters include the Captain, safety equipment and float tubes, a floating mat, lunch, and drinks.
Choose from day cruises, private sunset cruises, island hopping, and more.
"If your looking for a yacht look no further. This was one of the highlights of being here in Puerto Rico and I've been on plenty of yachts and none provided the type of service of lunch we had. When we come back we will be sure to book again." - Nick, Sept 2021
Capt Luis's Budget-Friendly Boat Tours in San Juan
Welcome aboard amigos! Looking for an unforgettable day of boating in San Juan without breaking the bank? Best of GetMyBoat 2021 winner Luis and his professional captains are here to make it happen! They are US Coast Guard certified with years of experience on the water. Choose from a boat trip to explore the bay, a sunset cruise, or a gastronomic tour.
Starting at $190/hour for up to 6 guests, you can enjoy seeing Old San Juan's historical sights and beautiful views from the perspective of your own private yacht. Check out El Morro Castle, the Bacardi Factory, or quietly cruise through the mangrove ecosystems and stop to snorkel. Visit a beach or sunbathe on the deck. The friendly vibe and accommodating vessel will make a difference for your Bay Tour adventure. Go to places and see things up close and personal. All experiences with Captain Luis offer the best Caribbean vibes and with your favorite or most famous local tunes.
Let Captain Luis and his team know any special requests when you make your inquiry - they will do everything they can to maximize your experience.
"Captain Luis was awesome it was a an amazing experience we highly recommend visiting him he was very informative and he had these really cool speakers that allowed us to hook up our own Bluetooth thank you captain" - Tamara, Oct 2021
All-Inclusive Boating Experiences with Captain Ellen
Are you planning to visit Puerto Rico with a big group? Hoping to party on the water? Book with Captain Ellen! Her team can provide you with the ultimate all-inclusive charter based out of Fajardo, Puerto Rico!
They are Best of GetMyBoat 2021 Winners and their vessel is a fully restored 36-foot custom dive boat that offers snorkeling tours, sunset cruises, fishing charters, scuba diving, and private charters throughout the islands off the coast of Fajardo and the Virgin Islands. Ellen and her team can take you on boat trips all over the eastern coast of Puerto Rico, including the world-renowned Flamenco Beach, Palominos & Cayo Icacos, Culebra, and Vieques. These are some premiere destinations for snorkeling and scuba diving, complete with all-inclusive lunches and drinks to make the packing a little lighter for the day.
Not into watersports? Perhaps you want to unwind and see a beautiful sunset off the coast while listening to music and enjoying the views. Private charters are available for all types of tours, just let the team know what you're interested in when you make an inquiry. The boat has a great music system with a Bluetooth connection, so you can be the DJ on your boat day. Book with Ellen for a fun adventure in Puerto Rico.
"I was able to book a day trip with Capt. Danielle and Edgardo last minute when another charter canceled. We had a great time with food and drinks and music. Capt. Danielle took great care of us and our kids, taking us to various snorkeling spots and beaches keeping safety in mind. We will be back for a diving or fishing trip soon. Thanks again!!" - Andrea, Oct 2021
Jimbo's Sailing Tours
Want to enjoy a relaxing sailing day in Puerto Rico? Book a sailing charter with Captain Jimbo. He's here to show you a great time and his charters are very affordable, starting at $99/person.
Travel by wind power on his classic 1969 sloop Sailboat, riding the breeze across the coast of San Juan and see the forts and harbor, sip a drink onboard, and learn about all the landmarks from Captain Jimbo. He is knowledgeable about sailing and Puerto Rico, and will provide your group with an unbelievable day on the water.
"Jimbo was prompt with communication in advance of our sail, and had interesting history to share during our journey. We had fun sailing the harbor and seeing the forts from a different perspective." - Lisa, July 2021
Elie's Private Boat Tours & Beach Hopping
Want to cruise out to a private beach? Elie's boat charters will make it happen. Visit the cays and islands around Fajardo. You can also go to Culebra, Vieques, Icacos, or Palomino Island, just arrange the details in your booking inquiry before. This center console boat charter costs as little as $750/day for a group of up to 6 people. Listen to your favorite music, enjoy a delicious lunch, use the snorkeling equipment and visit 3 or 5 beaches the same day. This boat is 33ft and has a microwave, snorkeling kit, towels, and a BBQ.
---
Ready to plan your Puerto Rican boating adventure? Check out all boat rentals in Puerto Rico available on GetMyBoat!